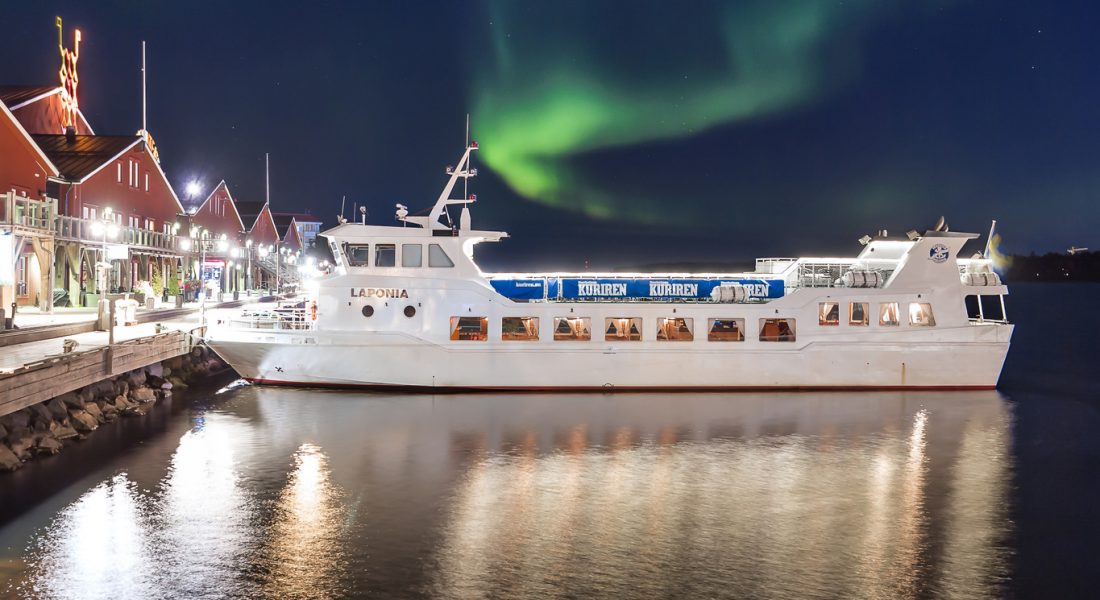 An exclusive experience in the archipelago of Bothnia!
Join M / S Laponia on a September cruise and you will be able to see the Northern Lights.
When the autumn darkness goes down and we begin to have some cool nights, then you have a chance to see it. It is a unique spectacle that takes place in the sky. Experiece how the light changes in size from small and weak to large and powerful, to change color and to form different patterns, it is unforgettable!
First, we´ll experience the sunset and when it darkens, the northern light will make its entry. You will experience it best on our large sundeck.
Eveningcruise with Shrimp Buffet
Join us on our popular three hour cruise in Luleå's beautiful archipelago.
During the cruise we serve a buffet filled with salad, cheeses, sauces, our freshly baked bread and, of course, as many shrimp you can eat! We also serve beverages such as beer, drinks, soft drinks and a variety of wines that are specially chosen for our menu. On these cruises we always have live music played by our talented troubadours.
The skipper always chooses the route that is most appropriate for the weather conditions.
The cruise leaves at 19 o'clock to 22 o'clock, starting from Northern port, Luleå.
Boat Show with live music
During our four-hour cruise we alternate between food and live music by our show crew. All music is performed live.
We serve you a various mix of music styles with songs from Swedish group ABBA, some classics of jazz and disco among others. We serve a five-course dinner with additional wine packages.
The cruise leaves at 18 o'clock to 22 o'clock, starting from Northern port, Luleå
Discover Bothnia Cruise from Luleå to Seskarö (Haparanda):
Take this cruise through the Bothnian archipelago from Luleå to Seskarö. Enjoy our buffet while you having something good to drink. The Master is routinely guiding you through among the 4001 islands we have. The cruise leaves Luleå at 18:00 and after it darkens hopefully the Northern Lights will appear. You will experience it best up on our sundeck where the backlight is minimum. On arrival to Seskarö you will be offered a transfer to the charming City Hotel in Haparanda, just a few steps from the Finnish border.